Mumbai
Balasaheb Thackeray (86), founder of the Shiv Sena dies at his residence Matoshree in suburban Bandra on Saturday. After he passed away, son Uddhav was taken ill. Close family members including nephew Raj Thackeray and his wife were by his side.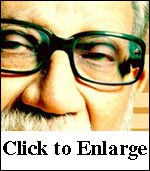 "He had suffered a cardiac arrest. We could not revive him despite our best efforts. He breathed his last at around 3:33 pm," Dr Jalil Parkar, who treated the Sena supremo, said.
Bal Thackeray had been critically ill for the last few days and his condition worsened on Wednesday night when he had to be put on life support. He was taken off life support after showing signs of improvement.
Thackeray had been suffering from lung and pancreatic ailments and had been under the supervision of doctors for the past two weeks. Before that he was admitted to hospital for a week in July following fever, stomach pain and other problems.
He is survived by two sons Uddhav and Jaidev and their families. While Uddhav who now runs Sena, lives with Thackeray, Jaidev moved out several years ago due to strained ties. Thackeray\'s other son Bindumadhav died in an accident 15 years ago. His family also lives in Mumbai.
Popularly known as the Hindu Hriday Samrat (ruler of Hindu hearts), Thackeray had single-handedly created and then transformed the Shiv Sena from a rag tag bunch of street youth in 1966 into a formidable political force which governed the state of Maharashtra for a period of four years from 1995 to 1999 along with its Hindutva ally the BJP.
A rabble rouser, who started out as a cartoonist alongside R K Laxman in the Free Press Journal in the 1950s, Thackeray founded the Shiv Sena in 1966 on the plank of job security for the Marathi manoos (sons of the soil) which translated into attacks on South Indians whom he blamed for taking away business opportunities from locals.
Referred by many as the uncrowned King of Mumbai, Thackeray made space for himself in Maharashtra's political arena by addressing the concerns of Maharashtrians who increasingly felt marginalized and deprived in the fast developing metropolis of Mumbai.
In the five decades of the Sena's existence, Thackeray formed an alliance with almost all political parties including the Congress, Socialist and even the Muslim League at various points of time to further his own cause.
Thackeray, however, had an anathema of adorning any constitutional posts and was happy in governing through "remote control."
The Sena supremo's darkest political hour was when he was personally indicted by the Srikrishna Commission Report for directing a pogrom against Muslims in Mumbai in December 1992-January 1993.
An astute politician, Thackeray was also well known for being a lover of the good life and had a huge circle of friends amongst Mumbai's filmstars.
As he aged, his penchant for sipping warm beer had given way to having a glass of red wine on the suggestion of suggested doctors.
In short, Thackeray defied every political stereotype reflected tellingly in a popular saying that went something like this: 'You could like him, you could desist him, but you could never ignore him'.